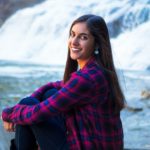 Maya Drummond
PT, DPT
Maya graduated from Ithaca College summa cum laude and with honors with a B.S. in Clinical Health Studies and Dance Minor in 2017. In 2019, she earned her Doctorate of Physical from Ithaca College. Maya has experience treating outpatient orthopedic and neurologic conditions and has worked with all age groups in various settings.
She is passionate about health equity, health literacy, and wellness and injury prevention. She wants to help you get back to what you love and teach you what she knows, so that you can help yourself stay healthy. She is certified in Specific Functional Movement Assessment Levels 1 and 2. She also is a Level 1 Credentialed Clinical Instructor to teach the next generation of physical therapists how to provide compassionate care and evidence based practice.
Maya is an active member of the American Physical Therapy Association's Health Equity and Anti-Racism Team and is a Science for Social Equity Fellow.
In her spare time, Maya enjoys going to plays and musicals, attending sporting events, cycling, hiking, boxing, and dancing.
Shoulder impingement

Rotator cuff injury

Tendonitis

Hip pain

Knee pain

Ankle sprains

Back pain

Osteoarthritis

Balance difficulties

Postural education

Chronic pain

Performing artists

Stroke

Brain injury

Multiple Sclerosis