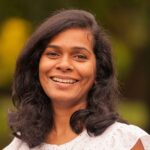 Subha Nagasubramanian
PT, MS, DPT ,OCS, MTC, CMTPT.
Subha completed her Post-Professional Masters with a focus on Orthopedic Physical Therapy from the University for Pittsburgh in 2006. She is a Board Certified Orthopedic Specialist and trained in Dry Needling and is a certified manual therapist. Her work experience in the US includes working as a supervisor assisting in designing and implementing work hardening and conditioning programs. She has worked with chronic pain patients as part of a multi-disciplinary team. She also has extensive outpatient experience working with different types of injuries. She has also worked extensively with athletes and dancers at Sports Medicine Center in Chennai, India.
If you want to sum up Subha, it's that she loves what she does and she does what she loves.
She is a trained classical Indian dancer and her interests are in working with dancers to rehabilitate them and also help them to understand their bodies and movements to help prevent injuries. In her spare time Subha volunteers at Association for India's Development. Other hobbies include, Bharatanatyam, Running, Gardening and Camping.
Headaches

TMJ (temporomandibular joint) issues

Neck pain

Shoulder pain

Rotator cuff injuries

Shoulder impingement

Osteoarthritis

Rib pain

Back pain

Post surgical

Hip pain

Knee injuries

Runner injuries

Dancer injuries

Achilles ruptures

Ankle sprains

Ankle fractures