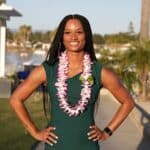 Alex Sharpe
PT, DPT
Alex received her Doctorate of Physical Therapy degree with high honors from the University of St. Augustine for Health Sciences in 2022. Alex has experience with orthopedic conditions and has worked with a diverse patient population, varying in age and background. During her clinical rotations, Alex has had the pleasure of working in outpatient orthopedic and skilled nursing facility settings and has a special interest in orthopedic and neurological conditions.
Alex considers herself a movement specialist and is passionate about any and everything fitness related. She enjoys sharing her knowledge about health and fitness and how others can improve their overall quality of life and reach their goals. Alex loves learning and constantly researches new techniques and different ways to treat various conditions.
Alex has played sports all of her life, and her interests include working with athletes returning to sport and during the off-seasons for injury prevention. In her spare time, Alex loves going to museums, watching movies, trying new foods, playing sports, and weightlifting.